The artwork depicts a table set to begin the Sabbath. For a number of Jamborees, we have used the Hebrew expression to the right, and the Fleur-de-Lis/Six-Pointed-Star emblems. The Hebrew reads (from right to left) "Tzofim Datiim". Tzofim means 'Scouts' and is the name used by the Scouts in Israel. Datiim means 'the (religiously) observant ones'. In fact, our 2023 Jamboree Contingent will have nine BSA registered participants living in Israel — seven youth and two adults.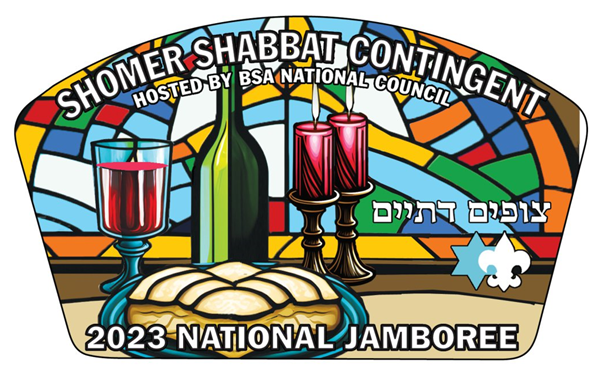 Eagle Scout Yossi Tocker lives in Alon Shvut, Israel (~12 miles south of Jerusalem, in the Gush Etzion area). Born in Tel Aviv, Palestine (pre Israel independence), his family moved to Washington Heights, New York when he was 5 years old. In the late 1950s, Boy Scout Troop 613 was chartered in his shul — The Washington Heights Congregation. (Founded in 1905, it is now often called "The Bridge Shul" as it is very close to the George Washington Bridge.) Mr. Tocker enjoyed weekend Scout trips to Alpine Scout Camp in New Jersey and summers at Camp Kunatah (with its Glatt Kosher dining hall) on the 12,000-acre Ten Mile River Scout Reservation in upstate New York. He earned his Eagle Scout rank in 1960.
He attended Art & Design High School in Manhattan and Pratt Institute in Brooklyn for both college and a Master's degree in Advertising and Graphic Design. Starting in college, he worked in an advertising agency specializing in cruise ship lines, and later started his own agency serving clients in the banking, insurance, publishing, and other industries.
In recent years, Mr. Tocker began to specialize in Jewish and non-profit organizations, such as Zionist Organization of America, Orthodox Union, United Synagogue of Conservative Judaism, Chabad-Tzivos Hashem, United Jewish Appeal, Chai Lifeline, HASC, Jewish day schools and yeshivas, the Bible Lands Museum in Jerusalem, and Boys Town Jerusalem.
Among his most famous logos are those, now seen worldwide, that he designed for the Orthodox Union, NCSY, and Yachad.